Since 1998
The Experience
---
C

ombine an enriching Plantation Walk experience with a delightful culinary treat.
This tour comprises of a guided estate tour along with a visit to our coffee processing and roasting faclity followed by a pre plated traditional Coorg cuisine lunch.
---

---
Duration
Tour can start at 11.00 am and lunch is served
after the tour from 12.00 noon onwards.
Lunch is available till 4.00 PM.
Charges
Adult: Rs. 600,
Children between the age 6 – 12: Rs. 400
Children below 6 are our guests.
The lunch comprises of a choice of vegetarian and non-vegetarian options.
Inclusions
Guided walking tour of the Estate
See our Coffee roasting facility
Coorg Cuisine Lunch with veg and non veg options
Fresh Filter Coffee Tasting Fresh Air
Walking Tour Roasting Facility
Freshly Brewed
Tour Instructions
---
---
This is a walking tour of the estate. There are some climbs which is typical on plantation trails. Walking shoes and comfortable but not too loose clothing is preferable. Wearing a hat/cap to protect from the sun will be helpful although most parts of the estate are shady and cool. During rainy days carrying an umbrella and/or raincoat will ensure a more comfortable experience although we keep umbrellas on standby at the estate. Pets are welcome however the owner must ensure that the pet stays in the vehicle or is on a leash to ensure no disturbance to other visitors and maintain cleanliness.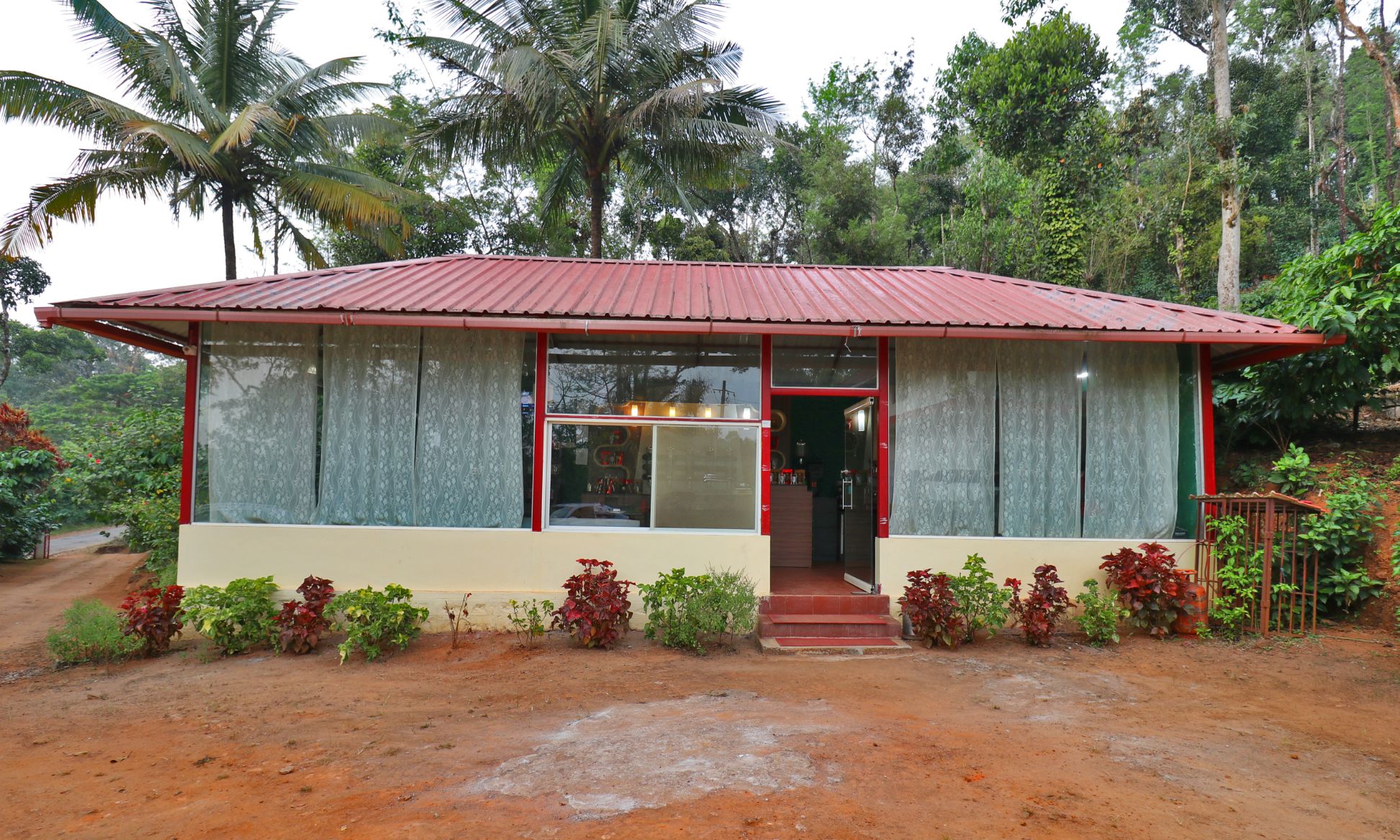 About the Estate
---
---
Mercara Gold Estate is a beautiful 12-acre estate located 8 km from Madikeri. Whilst coffee was growing here since the 1960's we acquired it in 1998 and began a process of transformation by organising it into a well laid out farm with a wide array coffee, spices and fruit trees. Our vision was to develop Mercara Gold Estate into a fully integrated unit, we began processing and roasting our coffees on the estate. We follow all time-tested processes with passion to produce our own range of boutique style coffee and well balanced blends.
Coorg Coffee And Spice Estate Tour
August 11, 2021
ESTATE LUNCH – COORG ON A PLATTER
August 11, 2021
How to Reach Us:
---

---
Mercara Gold Estate is located 8 km from Madikeri. One needs to take the Madikeri – Mangalore highway and travel for 5 km. We will arrive at a T-Junction called Katekeri Junction. We need to take the left turn and travel for another 3 km on that road. Mercara Gold Estate will be on the left hand. There are boards at the junction and at the estate to identify the route.